OnlineFence Blog
The Benefits Of Using Cedar For A Wood Fence
Apr 14 2015
| By: Mike Dominique | Posted in:
Cedar Fence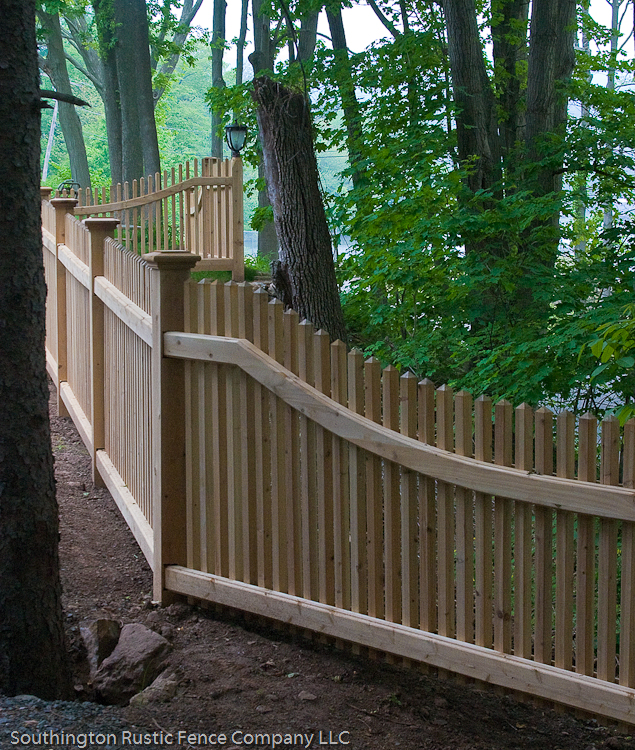 There is no wood fence that can match the classic beauty and durability of a cedar fence. Cedar is a truly exceptional wood offering many desirable traits for both indoor and outdoor use. Although cedar is a softwood, you would be wrong to think it is not durable. Cedars lasting beauty, and natural resistance to rot, decay, and insects, makes it an obvious choice for fencing, siding, decking, arbors and outdoor furniture. If you want a wood fence with great looks and tough durability cedar is the only way to go!
Starting with the finest quality cedar available from northern Maine, and hand crafted and finished here in our workshop, our cedar fences are sure to impress. Being naturally free of pitch and resin, untreated white cedar holds paints and treatments exceptionally well. Even though a stained cedar fence is breathtakingly beautiful, many people prefer to leave it unstained and enjoy the organic silver patina that comes with age.
A cedar fence offers excellent resistance to rot and insects without any sort of chemical treatment or protective coatings. It naturally resists rot, shrinkage and warping from rain and snow, and it also resists attack by fungus and termites.
Cedar is a dimensionally stable lumber. This means that the wood does not expand and contract with humidity changes like other wood varieties. The main benefit of this quality is that nails can be used instead of screws for construction.
Wood that shrinks or warps can cause nails to pull free, but fences constructed from white or western red cedar do not have this problem. Cedar has a tight grain and a fine, even texture. It dries very quickly when harvested, and this rapid drying characteristic gives the wood a high strength to weight ratio.
The sapwood of White Cedar is often very narrow and is creamy yellow to white in color. The heartwood is a light brown color that often has a slight pink tint. Growth rings are very prominent. The grain is usually straight and even with a fin texture.
Please look over our many designs to select the perfect choice for your home. Choosing from our board styles, panel construction, special shaping, panel styles, and our endless combinations, we are sure you will find the fence that is right for you. Enjoy your naturally beautiful Cedar fence for years to come.
---
Add your comment (for display after moderator approval)
---