OnlineFence Blog
Vinyl Fencing Frequently Asked Questions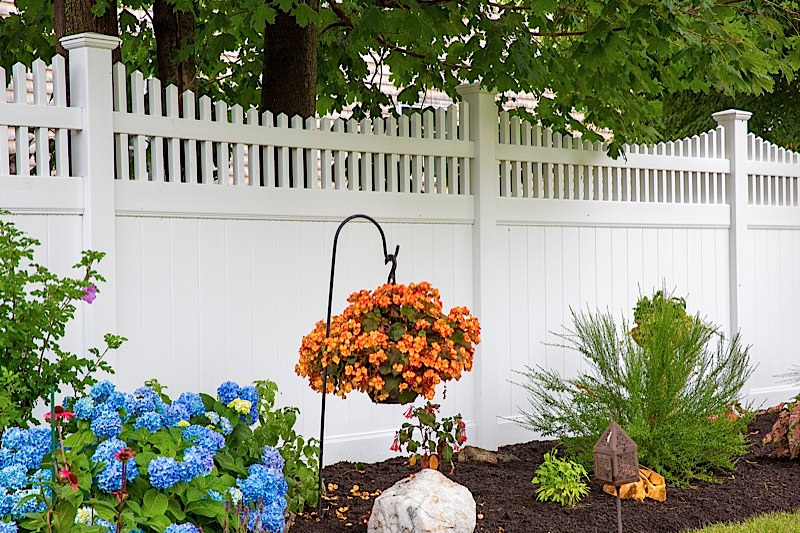 What is the cost of vinyl compared to wood?
Comparable. The upfront cost of a #1 grade cedar fence is about the same or more than a vinyl fence. As a matter of fact, when you consider the longevity a vinyl fence compared to a wood fence, vinyl fence will often be the best value.
Are there differences in vinyl quality?
Yes, big time. Vinyl fence components are available in a wide range of sizes and thicknesses. To reduce costs, some manufacturers decrease their wall thickness, resulting in reduced strength and ultimately yielding an inferior fence. Another cost cutting tactic that some manufactures use is using a smaller percentage of titanium dioxide in the vinyl resin blend. Titanium dioxide, serves as a sun block that helps protect the vinyl from the harmful UV rays it is exposed to and also prevents yellowing. When you are shopping for a vinyl fencing for you home it is not worth finding a low cost cheap fence.
What is virgin vinyl?
Virgin vinyl is the term used for vinyl products that do not contain recycled or reground products. Recycled products that may be imported into an extrusion plant may contain impurities or lower grade vinyl which can seriously affect the finished product's resilience, impact resistance and UV inhibition.
Do you cement the vinyl posts?
Absolutely! All vinyl posts should be firmly set in concrete footings. Unlike some of our competitors, our vinyl posts feature a "concrete lock" at the bottom of each post that locks into the concrete footings. This helps prevent the post from heaving or sinking during the winter months.
How do you clean the fence?
Like vinyl siding on a house, our fence can become dirty when exposed to the elements. Normally rinsing the fence with a garden hose or pressure washer once a year is fine. For tough stains, Soft Scrub or baking soda works well. Vinyl siding cleaner also works very well.
Do vinyl posts need a wood post insert?
No. Our vinyl posts are engineered without the need for wood inserts. Our posts are made to hold up the most brutal New England weather. We also use extra heavy duty posts for use with gates and commercial applications when needed. Low cost "home improvement store" brand vinyl fences require a wood post insert post because the post small and lightweight.
What is the warranty on our vinyl fence?
All of our ActiveYards vinyl products carry a lifetime warranty. During the life of the vinyl fence, you should not expect to find surface cracking, peeling, chipping or rot. Not all vinyl products carry a lifetime warranty so be sure to purchase a vinyl fence that does! Also be sure to select a reputable fence contractor that will still be around years from now to service your warranty.
Will Vinyl Fence fade?
Like vinyl siding and windows, vinyl fencing will lose a little of its sheen overtime but is extremely resistant to fading. Today's vinyl fencing has a chemical formulation similar to sunscreen inside the blend which is designed to permanently reflect the sun's rays and hold its colors.
Will vinyl break?
While vinyl is very resilient and holds up well to abuse, any fence material can break if subjected a hard enough impact. Under normal use, the fence will not break, chip pr crack when properly installed and maintained. No worries though, vinyl fencing is pretty simple to fix. If your fence does break, call us, in most cases we have replacement parts in stock.
Can I get custom vinyl fence styles?
Yes! We can custom fabricate like almost any style you can think of. We can also customize and install pergola and custom rose arbor entranceways.
---
Add your comment (for display after moderator approval)
---