OnlineFence Blog
Why Choose an Aluminum Fence
Your yard is one of the most important pieces of your home. It is the first thing guests see when entering your home and the last thing when they leave. Adding an ornamental aluminum fence can really add to this first impression. Ornamental aluminum fences come in a variety of styles and colors, guaranteeing that one will fit the style of your home.
Our ActiveYard ornamental aluminum fences offer a unique Corigin structure that allows them to flex more than other types of fences. This is extremely helpful for irregularly shaped yards or yards with slopes, as it lets the fence reach areas other fences could not. Over time screws can rust or break weakening your fence and making it look unsightly. The Corigin structure eliminates the use of screws, making maintenance a breeze. Our SolarGuard technology infuses the desired color into the fence as it is being made. This ensures that your fence will look like new for years without the hassle of continuously repainting. Aluminum will not rust like steel and will not rot like wood making our ActiveYard aluminum fences incredibly durable without the same maintenance hassles of other fences.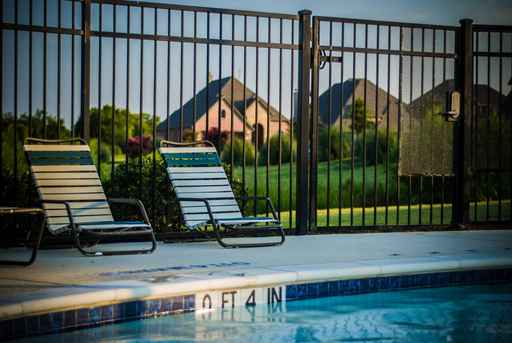 An aluminum fence can add security while still keeping an open look and feel to your yard. The design of the aluminum fence allows you to feel secure in your yard while still being able to enjoy the views around your home. If you have a pool that needs to be enclosed then an aluminum fence is perfect for the job. Enclosing a pool is a safety must for homes with children and pets. The sturdy but open design allows you to keep pets and children out of the pool area, while keeping an eye on the pool itself. Our aluminum fences follow "boca" national pool code, making them easier to install around a pool than other fence styles. Keep in mind that local laws may vary so always be sure to check before buying a fence for your pool.
If you are looking to enclose your driveway an aluminum fence is a great option. With its sturdy construction an aluminum fence can handle the wear and tear of weather and constant use, while providing reliable security. Adding a gate to the driveway not only improves security but it adds a regal look to your home unmatched by other fence styles. The open design of the aluminum fence lets you see what is in the driveway before you pull in making it ideal for families with children and pets. Adding a gate to your walkway is a great way to create a distinguished look if a driveway gate is not what you are looking for.
Aluminum fencing is ideal for pet and garden enclosures. Keeping an eye on your dog while they are outside is easy with the open design of an aluminum fence and because our aluminum fences have the color infused into them when they are made, the color will not chip or fade even if your dog likes to scratch and chew on the posts. An aluminum fence also works great to keep your garden safe while still being able to enjoy the flowers you worked so hard to tend.
There are lots of reasons to add a fence to your home and an aluminum fence is a great choice. If you want an incredibly durable but easy to maintain fence then aluminum is the clear choice. Its open design and regal feel can really improve the look of your yard without sacrificing security for good looks. Aluminum fencing is a great option for homeowners who want to add stylish security to their homes without blocking out the world around them.
---
Add your comment (for display after moderator approval)
---