OnlineFence Blog
Benefits of installing a vinyl fence.
Benefits of installing a vinyl fence.
When it comes to installing a fence for your property, there is a wide variety of materials and finishes including wood, steel, aluminum, vinyl, and chain link to choose from. Each has its own set of advantages and disadvantages, but vinyl fences have become very popular in recent times due to their versatility and affordability. This is mainly due to the fact of its durability, wide assortment of different styles, colors, textures and price points that are available. They need very little maintenance and do not have to be painted or protected from termites and rot. They seem to be almost worry free.
Vinyl Fencing Strength and Flexibility Benefits
Vinyl fence offers outstanding durability. It's up to five times stronger and four times more flexible than wood fencing, allowing it to handle impacts from lawn mowers and tree limbs. The steel reinforced bottom rail provides a stronger, more rigid fence that's less likely to sag or bow. Because it's composed of materials that give it a considerable amount of flexibility, it has a much greater chance of surviving harsh weather conditions and the force of pressure washing than a stiffer option which might crack, bend, or break. The flexibility of vinyl makes it a good choice in places that witness extreme weather conditions such as strong winds and rain. Vinyl fences are also preferred in seaside locations which see a significant amount of salt water exposure. They are also suitable for fencing in animals like horses as the animals can neither chew through it nor hurt themselves if they attempt to run through it.
Vinyl Fencing Maintenance
Vinyl is an easy-care alternative to other fence materials. A vinyl fence won't warp, rot, split or blister like a wood fence, or rust, chip, peel or corrode like aluminum or steel. Vinyl never needs sanding, staining or painting. Surface dirt and debris wash away easily with a periodic spraying from a garden hose. The maintenance required for vinyl fences is next to nothing. This is an ideal choice for homeowners who do not have much time or interest in caring for their fence periodically. Just some general cleaning with soap and water is sufficient to keep your vinyl fence clean and sparkling.
Vinyl Fencing is Non-Toxic and Recyclable
Unlike wood fences, which are often treated with chemicals to protect the fence from weathering, vinyl is non-toxic. It doesn't splinter and contains no nails or sharp edges that can harm children or animals. Vinyl fencing is also an environmentally friendly fence material, since it is fully recyclable and offers an eco-conscious alternative to the dwindling supply of trees harvested for wood fencing.
Vinyl is a great value
The overall cost of buying a vinyl fence is much cheaper than that of a wood or iron fence. Since there is no maintenance required, you will save money you might have to spend on maintaining or even completely replacing a wood or iron fence. This also includes savings on repainting costs as well as costs of primer or any other treatments that might have to be done to keep the a wood or iron fence safe from termites, rot and rust. Vinyl fences simply outlast all other fence types.
Vinyl Fencing Makes for Easy Installation
Since vinyl fences are very easy to install, most people can install themselves if they choose so. This also translates into savings if you do choose to have a professional install for you because of reduced labor time and costs involved. It is a "win win" regardless if you install on your own or have a pro install for you.
Vinyl fences can be the best fencing option for many of those who want the most flexibility out of their fence. Furthermore, vinyl fences can be great for those who do not want to worry about having to replace their fence and are looking for the best overall value. Contact us to find out more about the vinyl fencing options that are available to you as well as for advice on whether a vinyl fence may be the best option for your home.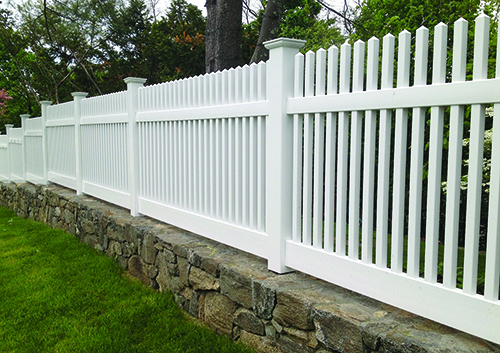 ---
Add your comment (for display after moderator approval)
---