OnlineFence Blog
Why Is A Fence Around My Pool A Necessity?
We hear it on the news all too often. A child has wandered around the pool without parental guidance, and accidentally falls in. These unfortunate situations happen so quickly that the parent may not even be aware of the issue until it's too late. According to Edgar Snyder & Associates, roughly 5,000 children 14 and under go to the hospital because of accidental drowning-related incidents each year; 15% die and about 20% suffer from permanent neurological disability. However, with a fence around your pool, these terrible accidents can be eliminated. When adding a fence for your pool be sure you are meeting the pool safety requirements. Read further to learn more about why a fence around your pool is a vital necessity for your home and safety.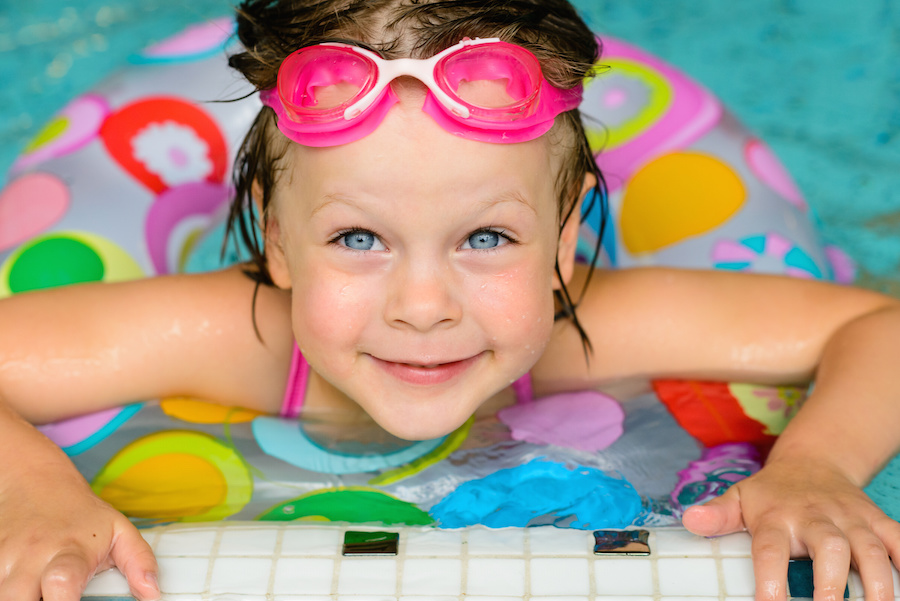 Are There Pool Fencing Guidelines?
As a homeowner, adding a pool is an exciting home addition for recreation and exercise. As you engage in this project, it's important to do the research about pools and the required fencing guidelines. Many insurance companies have different requirements but when it comes to pool safety, all insurance companies demand that a fence should be installed around pools. There are also guidelines that you need to follow to ensure your fence is safe and secure. Make sure you work with a professional fence installation contractor who can ensure you are knowledgeable about all fencing laws and guidelines before the start of the project. According to U.S. Consumer Product Safety Commission, here are some pool fencing guidelines that homeowners need to follow:
The top of the fence should be at least 48" above the surface measured on the interior side of the barrier.
The maximum vertical clearance between the surface and the bottom of the fence should be 4". In the case of a non-solid surface, such as grass or pebbles, the distance should be reduced to 2 inches, and 1 inch for removable mesh fences.
Where the top of the pool structure is above grade or surface, such as an above-ground pool, the fence may be at ground level, like the pool structure, or mounted on top of the pool structure. Where the barrier is mounted on top of the pool structure, the maximum vertical clearance between the top of the pool structure and the bottom of the barrier should be 4"
Openings in the fence should not allow passage of a 4" diameter sphere.
Where the barrier is composed of horizontal and vertical members, and the distance between the bottom and top horizontal members is less than 45", the horizontal members should be located on the interior side of the fence.
Spacing between vertical members should not exceed 1-3/4" in width. Where there are decorative cutouts, spacing within the cutouts should not exceed 1-3/4" in width.
Maximum mesh size for chain link fences should not exceed 1-1/4" square, unless the fence is provided with slats fastened at the top or the bottom that reduce the openings to no more than 13⁄4".
Where the barrier is composed of diagonal members, such as a lattice fence, the maximum opening formed by the diagonal members should be no more than 1-3/4".
Which Fence Is Right For My Pool?
Now that you understand the guidelines, it's time to decide what style fence will be best to secure the pool area and add a stylish appearance at the same time. Here are some style fences to consider.
Ornamental Aluminum: This is a popular style amongst homeowners with pools because of its strength and sophisticated appearance. This style fence is easy to maintain but the design doesn't offer a lot of privacy.
Vinyl: This style fence is durable and offers a large variety of designing options and colors. Environmentally safe, recyclable and non-toxic; vinyl fencing is virtually maintenance free. With different styles and designs to choose from you can get the look and amount of privacy you desire.
Wood: Wood is a natural choice for homeowners. The size and the style is completely customizable, wood is a cheaper fencing option and can be stained or painted. However, this style fence does require more maintenance and can warp and twist over time.
Chain Link: Chain link fence is one of the most practical styles, relatively easy to install and cost-effective. This style fence isn't the most attractive choice but is great for strength and security.
What Else Can I Do To Make The Area Safer?
Adding a fence and following the guidelines makes your pool a safe and fun area but there are a few things to add, to better protect the area. Here are a few of those pool additions:
Adding a lock or an alarm on the fence door is a great way to ensure that no one is in the pool area that shouldn't be.
Pool covers add another layer of protection. A strong cover that is well maintained will also help to keep your pool clean.
Make sure any other openings are secure. If there is a staircase attached be sure there is something securing the entrance like another door and lock.
Add pool lights. These will help illuminate the area so everyone can see where they are going and avoid any slips or falls.
Want to know more about pool safety fences? Call us today at 860-628-4162 for quality craftsmanship ensuring peace of mind and reliable security.
---
Add your comment (for display after moderator approval)
---