OnlineFence Blog
What Are The Best Methods To Clean My Vinyl Fence
Vinyl fencing offers a variety of styles, designs, and color as well as the added appeal of being mostly maintenance free. However, to keep your fence looking like new, it's important to regularly clean any dirt or grime that can build-up over time. The weather is uncontrollable and has habit to produce strong winds and rain, which can force your vinyl fence to accumulate stains such as dirt, grease and grass. Removing these stains will help keep your fence to its highest quality so it can continue to offer security and an elegant appearance. Here are some tips for the best fence cleaning methods.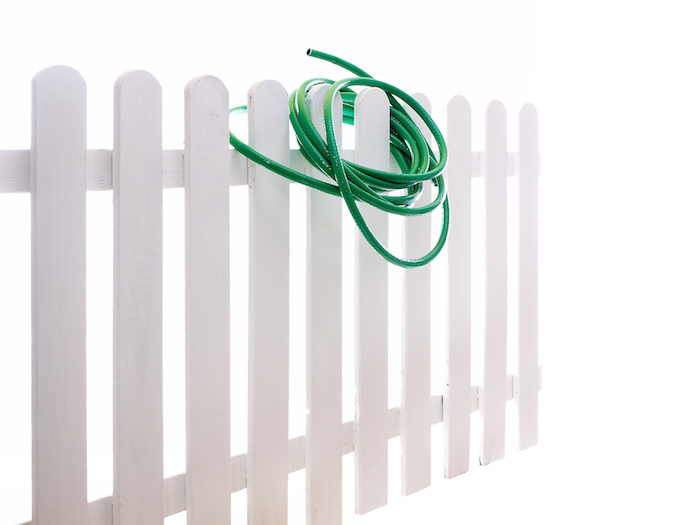 Light Cleaning
For the smaller cleaning needs such as dirt and mud, the cleaning process is quite simple. Start by hosing down the fence and so the force of the water does most of the work for you. Make sure to clean from the bottom to the top for better efficiency. Afterwards, clean the rest of the dirt with warm soapy water with a washcloth to remove what your garden hose couldn't. Lastly, finish up by spraying your fence once more to rinse everything off.
This is important to do on a regular basis to avoid buildup over time that can be difficult to clean. Stronger and deeper stains require a little more work and time for an effective clean.
Medium Cleaning
Grass and food stains can be challenging to get out of clothes, let alone attempting to get off your home's vinyl fencing. These spots will take a little more than soapy water and will require a little more elbow grease. You are going to want to use bleach for the heavier stains but make sure you don't use too much. If you do not like using bleach, you can try a mixture of 70% warm water and 30% white vinegar. Fill a bucket with warm water and about a third of the bucket with bleach(or your vinegar mixture). Scrub the buildup with a washcloth but make sure the material isn't too rough so you can avoid scratching the surface. This cleaning process will take a little more time to complete and depending on the size of your fence, you ma have to refill the bucket a few time for optimal quality.
Heavy Cleaning
Now put your back into it. Heavier stains that have built up over longer periods of time can be more difficult to remove. Components such as grease, grass and tar will require that you start off with the "light cleaning" process. Once that portion is completed use a different cloth that is soaked in mineral spirits and use to clean the areas that are affected by the stains. Try not to add too much pressure that will leave marks from the chemicals used. You can also use a scraper to get the thicker mildew and dirt off heavily muddled sections. Finally, make sure to rinse off with a hose.
Make sure in every cleaning process that you are wearing the right gear such as gloves or a facemask, especially when dealing with stronger chemicals such as bleach or mineral spirits.
For more information about vinyl fencing check out our website at http://www.onlinefence.com/vinyl-styles or give us a call at 860-628-4162.
---
Add your comment (for display after moderator approval)
---