OnlineFence Blog
What Are The Benefits Of An Aluminum Fence For My Home?
Apr 18 2017 | By: Mike Dominique |
Did you recently buy a new home, trying to sell your home or are simply looking to enhance your surrounding property? Adding a fence not only enhances security but the right fence can also boost your home's curb appeal. A common choice for homeowners is the fence style of ornamental aluminum. However, it's important to know the benefits aluminum fencing as you consider if that's the right style fence for your home. Read this blog to learn more about the benefits of ornamental aluminum fencing.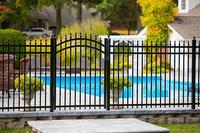 Competitively Priced
Especially when compared with wrought iron or steel fences, aluminum fencing is an inexpensive solution. Although its upfront cost is more than most wood fences or vinyl fences, unlike these styles, it doesn't require additional upkeep costs and maintenance. It's an inexpensive investment that will last for decades without needing a lot of maintenance. To save even more money, be sure to hire a fencing company who will install the fence correctly and under state regulations. A properly installed fence will prevent you from having to pay for unnecessary damages that may occur from areas with weak installation. Ultimately, even though it's not the cheapest option available, aluminum fences can still help homeowners save some extra cash with this fencing style's long lasting quality.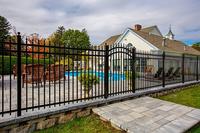 Added Safety
If you're looking for a security fence that can handle a lot of force and or the primary purpose needed is privacy, aluminum fencing isn't what you'll want. However, aluminum fences are an appealing addition that is useful for fences around pools or to confining children and pets to a certain area within your yard. Additionally, the aluminum fence is frequently overlooked but is actually huge deterrent to burglars or animals. Since a fence is an obstacle it is something that burglars do not want to have to deal with and often choose against. Also if you live in a wooded area an aluminum fence helps deter animals from entering your yard. Whatever its use, you can count on your aluminum fence to remain secure in the ground. To ensure that your fence is safe, be sure to choose a high-quality fencing product and have it properly installed.
Low-Maintenance
When is comes to low maintenance, aluminum fencing is probably the best. Unlike wood fences, aluminum fences don't need to be routinely painted and will not warp over time due to weather. Also, aluminum fences don't have rusting issues like that of chain link or iron. And most importantly, this fence style is one of the easiest to clean. Easy to install, easy to take care of, and an appealing design, aluminum fencing is a great solution for homeowners.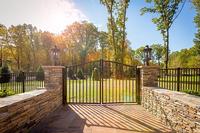 Versatile and Decorative
CT Aluminum fences are not only functional but much more attractive then their steel counterparts. There are many different colors and styles of aluminum fencing to fit your needs and tastes. Also a CT aluminum fence can compliment the look of your house rather than hurt it. Since aluminum fences are so attractive they will make your backyard or pool look amazing while keeping your kids or dogs protected.
Plus, with many different styles and options aluminum fences are customizable and features are endless. If you intend to use a fence to surround your property you can have gates installed for your driveway and walkways. If you are using a fence to surround your pool then as long as they adhere to local codes can have locking hinges and latches. There are endless uses and customizations you can make to your aluminum fences that make it truly special to you.
Southington Rustic Fence | Aluminum Fence Installation
Choosing an experienced fence contractor like Southington Rustic Fence can alleviate a lot of the stress and headaches associated with any major property improvement project. Our representatives and installers have a thorough understanding of the process and will guide you on your way to a successful and pain free fence installation.
---
Add your comment (for display after moderator approval)
---